Weather forecast for the Val Pusteria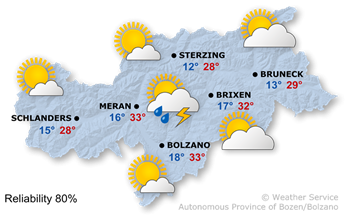 High pressure conditions and warm air masses determine our weather.
Sunny weather. Cumuliform clouds in the afternoon will bring local thundery showers, more probably in the evening.
Highest values between 25° and 33°.
Again sunny and warm conditions on the mountains. In the afternoon cumuliform clouds can reduce the visibility. The probability for rain showers and thunderstorms rises a bit.